Home
About Kingfa
News
Stable and Far-reaching Sino-Indian Economic and Trade Cooperation will Bring Immense Opportunities for Kingfa India
Stable and Far-reaching Sino-Indian Economic and Trade Cooperation will Bring Immense Opportunities for Kingfa India
2019-10-16
President Xi Jinping arrived in Chennai, India on October 11th and attended the the Second Informal Meeting Between Leaders of China and India at the invitation of Indian Prime Minister Modi. During the visit, President Xi and Prime Minister Modi had in-depth exchanges on the overall, long-term and strategic issues concerning the development of Sino-Indian relations, opening up new space for regional interconnection and pragmatic cooperation.
Photo: Minister Li Baijun from the Embassy of People's Republic of China in the Republic of India, took a group photo with the reception team
More than 160 representatives from more than 50 Chinese-funded enterprises across India participated in the reception and farewell party of President Xi Jinping. Kingfa Sci. & Tech. (India), Ltd. is the only Chinese listed company in India, which also participated in the reception as one of the five designated liaison companies of the Chinese Embassy in India.
Bo Jingen, General Manager of Kingfa Sci. & Tech. (India), Ltd. said in a media interview: "Kingfa's annual investment of R&D in China is over RMB 1 billion. We make full use of the research strength of the domestic headquarter and achieve rapid transformation in the India, which helps us gain market share and further development."
Thanks to rapid economic growth and geographical location advantages, India is becoming one of the important destinations for Chinese companies to go global. During the visit of President Xi to India, China and India agreed to establish a "manufacturing partnership" and a high-level economic and trade dialogue mechanism. The Indian government will attach great importance to the introduction and development of Chinese enterprises. Unlike simple import and export trade in the past, industrial integration has gradually become a new trend of Sino-Indian cooperation. "First, as the Indian government continues to deepen the 'Made in India' strategy and actively implement the results of the informal meeting between the Chinese and Indian leaders, the business environment has been gradually improved, which will inevitably attract more Chinese companies with different industry to India. Chinese-funded enterprises will certainly achieve greater development in India. Second, the Indian government will continue to strengthen the introduction of Chinese-funded and especially manufacturing companies in the future. With the continuous development of many industries including automobiles, mobile phones and home appliances, our domestic companies are looking forward to investing in India. Kingfa India will have more business opportunities in the future. Third, India has the demographic dividend and abundant natural resources for manufacturing development, which provides sufficient development room for the manufacturing industry. "
In July 2013, Kingfa Sci. & Tech. (India), Ltd. was established. Over the past several years, production bases in Chennai, Gurgaon and Pune were founded, mainly engaged in the research and development, production and sales of modified materials. Kingfa India is currently the largest polymer advanced material production company. According to the 2018 annual report, the sales volume of Kingfa India exceeded 60,100 tons, becoming the first modified plastics manufacturer with a sales volume of over 60,000 tons in Indian market, an increase of 19.96% compared with 2017, and continued to maintain a good momentum of growth. In 2019, Kingfa India developed an expansion strategy focusing on engineering materials, and fully expanded into industries including electrical and electronic equippment, mobile phones, power tools, connectors, and automotive functional parts. The new base in Pune is still under construction, and its completion in the future will further release production capacity and effectively support greater development.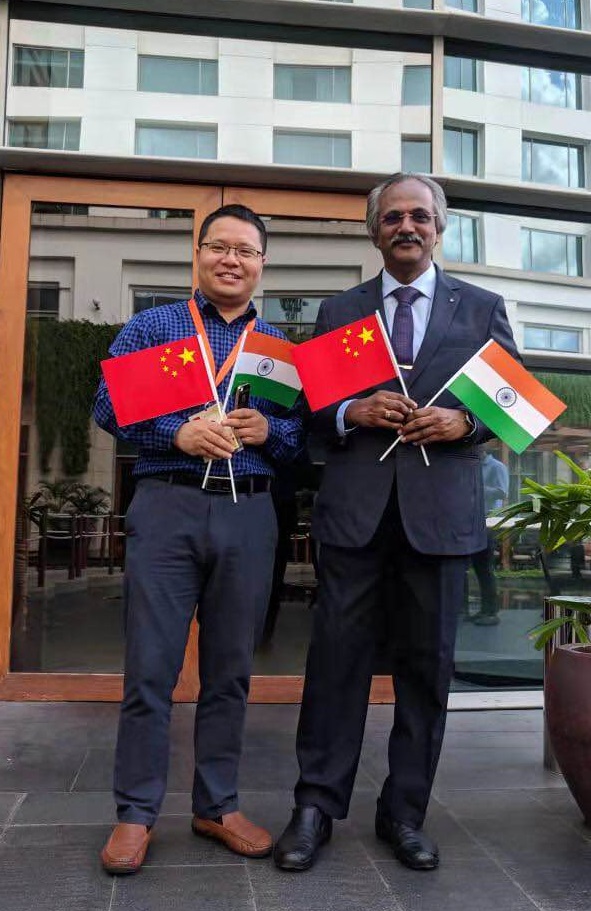 Photo: Director of Kingfa India Mr. Balaji (Right) and General Manager of Kingfa India Mr. Bo took a photo after the interview with CCTV
President Xi Jinping emphasized that the development of private enterprises should be strongly supported. A new generation of private entrepreneurs should expand international vision, enhance innovation capabilities and core competitiveness, and move toward a broader stage to form more world-class companies with global competitiveness. President Xi Jinping's important speech has strengthened the confidence of the private economy.
The informal meeting of leaders of the two countries has won the warm welcome and strong support of the Chinese and Indian peoples. Chinese enterprises will thrive with full vitality and be more and more valued in India. As the largest modified plastics R&D manufacturing company in the India, Kingfa India will play a crucial part in Kingfa's global layout with its development potential and competitiveness. Kingfa will firmly follow the path of high-quality development, contribute to China's private economy in the process of modernization and globalization.